OrthoView is a digital pre-operative planning solution that is easy to use and compatible with all PACS. Developed with input from orthopedic surgeons and prosthesis manufacturers, OrthoView provides surgeons worldwide with the facility to plan their procedures. They are also able to communicate the plan to their team when traditional X-ray film is no longer available.
The OrthoView solution provides access to a comprehensive library of digital prosthesis templates, including our unique Smart Templates, as well as specialist planning tool sets for each procedure, and patented wizards that automate key steps in the planning process.
Using OrthoView can improve workflow efficiency, saving time and money for the surgeons and the hospital. It is available with a range of deployment and purchase options to suit all types of hospitals and orthopedic practices.
Joint Replacement
A set of intuitive wizards guides the user through the planning process, making the planning session quick and easy. Based on the assessments made by the wizards, OrthoView rapidly recommends size and position of templates.
Limb Deformity Correction
OrthoView's Limb Deformity Correction Module allows accurate on-screen Osteotomy planning for single or multiple cuts. OrthoView also includes a range of tools designed to assist with planning for all aspects of limb correction surgery.
Pediatrics
OrthoView now offers the Pediatric Assessment Module. This contains a comprehensive tools set specifically designed to help in assessing DDH and other congenital deformities in infants and children.
Fracture Management
OrthoView's Fracture Management Module allows rapid planning and template forms of trauma cases. It contains templates from the major manufacturers for plates, nails, dynamic hip screw, and hemi-arthroplasty.
Spinal Assessment
OrthoView brings together all the key measurements required for assessing spinal deformities in both coronal and sagittal planes. For each view, all the relevant measurement wizards are presented to the user in a simple and logical way: one click will display the wizard, a second click will hide it again.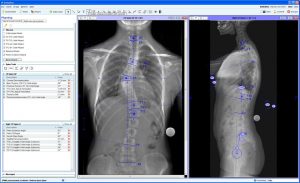 Smart Templates
Providing our customers with easy to select, high quality prosthesis templates has been a consistent objective throughout the development of the OrthoView solution. To aid selection, our unique Smart Templates are grouped in logical families, by size and characteristics. They also have intelligence built in, so that:
Switching between alternative options is quick and easy
Modular systems move as one on the screen
Only viable, real-world component matches are permitted
Size adjustments in one image are replicated in all projections.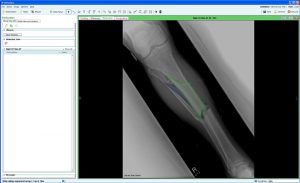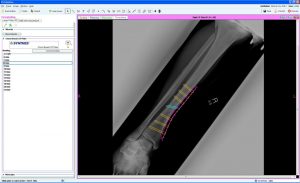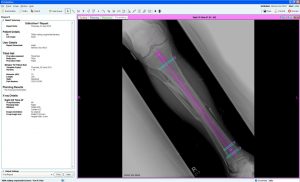 SmartHelp
A click-on-click-off integral panel provides tracking contextual guide, index and links to reminders and tips for each step of the planning process.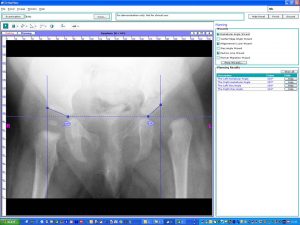 OrthoView Planning Wizards
OrthoView wizards are automated assistants, designed to make pre-operative planning quicker and easier. They reflect real world surgical techniques for each specific procedure. In addition to the planning wizards, there is a wide range of independent drawing tools, line meters and measuring tools provided in the software.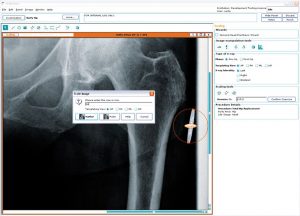 Smart Zoom
Smart Zoom incorporates two elements designed to make assessment of the anatomy, positioning templates, and identifying specific measurements even easier and quicker. Blue Lens provides an instant, precised close-up on the area of interest, which can be adjusted for magnification and moved around the screen as required. Mini View can be activated at any stage of the planning process. It is useful as a reference when zooming into a specific section of the main image.
One-click image scaling
Instantly corrects for image magnification when sizing templates and calculating measurements.
Intuitive wizards and specialist tools
The specialist wizards (automated assistants) within OrthoView facilitate planning for a total hip arthroplasty, femoral resurfacing, and hemiarthroplasty. The wizards enable quick and easy planning on-screen with minimal mouse clicks.
SmartHip
The SmartHip planning wizard streamlines and speeds up templating, which can be achieved in less than 60 seconds for a simple THA. Femoral canal detection, template sizing and initial positioning are all automatic and a readout of predicted changes to leg length. Those functionalities offset aid the user to choose the implant options that offer the optimal outcome for the patient. On screen reduction with a single mouse click is an option to aid visualization of the plan.
Managing leg length difference and offset
OrthoView's SmartHip wizard and Smart Templates make it easy to see the effect that the choice of template position, size, neck angle, etc. will have on these crucial measurements.
SmartHelp
A click-on-click-off integral panel provides tracking contextual guide, index and links to reminders and tips for each step of the planning process.
Comprehensive digital template library
Includes high quality, intuitive, multi-part hip templates that lock together to move as one. OrthoView's Smart Templates are designed to permit only viable, real world component matches.
Save plan to PACS, print or save locally
The result of the OrthoView planning session is a comprehensive plan and report that can be saved to Synapse PACS and retrieved for reworking or for reference during surgery. Local saving or printing of the plan is also supported.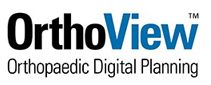 OrthoView is used by over 10,000 orthopedic surgeons worldwide to create and share their pre-operative plans and templates on-screen and online. Teaching hospitals use OrthoView to demonstrate best practice in digital pre-operative planning and templates forms. OrthoView is used in over 1850 hospitals, clinics and orthopedic practices worldwide.