The Neuron Sphere private cloud platform is entirely hosted in Quebec. It offers a safe environment and efficient network to all Clinics and Hospital centres. It gives them the opportunity to grow without having to manage infrastructure lifecycle nor assign resources to their technical maintenance.
This end-to-end encrypted network provides secure and efficient access to users as well as external consultants. As patient data security is a priority, Neuron Sphere is hosted in data centres with the highest security measures in Canada (Tier 3).
The Neuron Sphere DR includes standard equipment with synchronous redundancy providing automated replication backup and service full availability in another data centre. This functionality reduces data loss risk and warrants a quick return to operations in the event of a major breakdown.
Christie Innomed also ensures full quality of services based upon years of experience in managed services in the medical technology industry.
Furthermore, this financial model allows health institutions to pay only for the actual resources consumption, and eliminates complex forecasts that would imply traditional infrastructure and storage purchasing.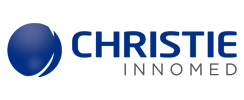 Christie Innomed develops, integrates and ensures support for health-related software solutions. Our innovative information management products help to improve performance in healthcare establishments across Canada.
Each solution is designed to provide competitive and financial advantages:
Integrated systems
Flexibility
Quick return on investment