With the new design and improved features, CONSOLE ADVANCE will contribute to a more efficient workflow within the radiology department. CONSOLE ADVANCE has been designed and developed to be simpler, more efficient and more comfortable to use for the radiographer and to speed up the imaging process, making examinations more comfortable for patients.
Design
The sophisticated design of the GUI contributes to the safe, comfortable and efficient performance of all radiographic examinations. In addition to the familiar basic operation, new gradation design monitor and the intuitive arrangement of operation buttons make it possible to check and confirm information quickly and accurately. The image display area on the display monitor is larger and enables easy checking of diagnostic images. An optional touch panel monitor ensures quick and accurate operations.
Functions
Connecting the console to an optional second monitor allows you to precisely confirm the image on a high resolution monitor. Text data is also displayed on the 2nd monitor so that patient information and exposure factors (when X-ray Control Unit Online Software is used) can be confirmed. Various magnification options allow the image to be enlarged for more detailed diagnosis.
ROI image adjustment function
Using FUJIFILM's unique reference feature, the displayed image can be quickly reprocessed. This function enables easier optimization of images.
Image stitching function (optional)
The automatic image stitching combines multiple images into a single image for viewing a wide area.
Auto-trimming function
The console automatically detects the exposure area and trims the image to the correct size or to the size of the selected region of interest. This function allows the radiographer to expose in any place on a panel/plate of any size.
Image processing
FUJIFILM's image-processing technology climbs to an even higher level. FUJIFILM's renowned diagnostic image quality has now evolved still further.  FUJIFILM's CONSOLE ADVANCE leverages its world-leading image processing technology built on a long heritage in medical imaging, and its endless pursuit of improvements in diagnostic imaging. Therefore, FUJIFILM's CONSOLE ADVANCE is more than able to meet the exacting demands of the modern medical market.
Customization
Various customization functions allow the user to arrange the screen as they like it by changing the positions of the buttons or option selection items. Performing customization allows users to optimize the interface to account for departmental workflow in order to improve efficiency still further.
System expandability
The CONSOLE ADVANCE can be connected to various other pieces of equipment via the hospital network and is fully compatible with DICOM part 14. The CONSOLE ADVANCE can be specified in the standard configuration or can be supplied with various optional software items. The CONSOLE ADVANCE is the heart of FDR and FCR diagnostic imaging.
Virtual grid (optional)
Virtual Grid is an image-processing software that corrects for the effects of scatter radiation that otherwise reduce image contrast and clarity. Without the need for an anti-scatter grid, this software quickly creates high-quality images.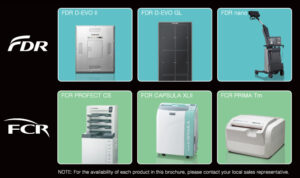 FUJIFILM: Focused on Continuous Innovation
Fujifilm Medical Systems is devoted to providing healthcare experiences that enhance the quality of life. From the development of the first web-based PACS system to new detector technologies such as ISS and Direct Optical Switching, Fujifilm Medical Systems continues to provide technological solutions that embody these values.
Fujifilm is constantly pursuing better solutions, from microscopy to outer space. Fujifilm Advanced Research Laboratories works in fields ranging from organic synthesis, to pharmaceuticals, to image processing, bringing continuous innovation and leading-edge products to a broad spectrum of industries. Fujifilm is a Fortune 200 global corporation powered by a dedicated international workforce, an annual commitment of $2 billion to research and development (R&D), and a steadfast pledge to empower customers through innovation. Fujifilm is dedicated to researching and developing cutting-edge technologies that will shape the future.
One vendor, one solution
From DR and CR digital X-ray systems, to women's health imaging systems, to the Synapse family of products that includes PACS, RIS, Synapse 3D, and Synapse Cardiovascular, to archiving and cloud storage, Fujifilm provides a comprehensive portfolio of solutions that allows health systems to integrate and consolidate data management, standardizing platforms across all imaging. Fujifilm provides the answers to increasing pressure on the efficiency and productivity of technologists and radiologists.