This automatic general radiographic system is based on the extensive experience and expertise Shimadzu cultivated as a pioneer in medical diagnostic imaging systems. It minimizes X-ray dose and improves examination workflow. Available only from Shimadzu, this system utilizes the latest technologies that are gentler to patients and provide a more comfortable examination environment for the patient and operator alike.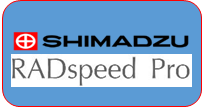 OPTION 1: RADspeed Pro
The RADspeed Pro is a high-performance general X-ray room with options for manual and automated movement. It is designed to be customized to each department's requirements.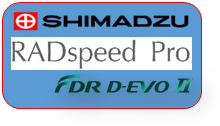 OPTION 2: RADspeed Pro DR
The latest RADspeed Pro X-ray room is fully integrated with 1, 2 or 3 state of the art DR flat panel detectors for a complete custom digital solution. Add diagnostic value to this room by adding the Image Stitching option. Fujifilm DR D-EVO II technology includes wired/wireless panels for dedicated use in a high productivity general X-ray room. DR panels can also be shared outside of the department using mobile consoles or memory mode.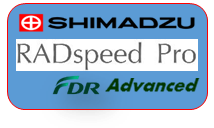 OPTION 3: RADspeed Pro Advanced
Add diagnostic value to your DR room with advanced applications including Image Stitching, Dual Energy Subtraction and Tomosynthesis. Implements the high read out DR flat panel, DR-ID900 with full integration and software.
Sophisticated Synchronization Functions Make System Operation Even Easier
Revolutionary Auto-Positioning Feature Allows the Operator to Focus on Patient Care (Optional)
The auto-positioning feature is interlocked with the APRs. Pressing a single button on the remote control smoothly moves the ceiling mounted X-ray tube support to preregistered positions and can automatically set the X-ray tube angle. Movement stops immediately after the remote-control button is released. Up to two remote control units can be used. Effortless tube positioning allows the operator to focus on patient care. Naturally, manual operation is also possible to make fine positioning corrections extremely simple.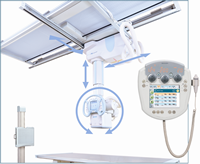 APRs Synchronized with the X-ray High-Voltage Generator
Radiography parameters and techniques can be changed beside the patient and on the console in the control room. The operator can prepare for radiography without leaving the patient. This sophisticated synchronization of the X-ray tube support and X-ray high-voltage generator effectively exploits the convenience of dual consoles.
Synchronized Vertical Movements of X-Ray Tube Unit and Bucky Table (Optional)
The X-ray tube unit focal point moves up and down in conjunction with the vertical positioning of the X-ray. Bucky stand and X-ray Bucky table. For a table study, the X-ray tube automatically moves to a preset source-image receptor distance (SID), enabling accurate and fast positioning.
Bucky Unit Automatically Follows Irradiation (Optional)
Easily synchronize the longitudinal travel of the table's Bucky unit with the X-ray tube support position. In addition, for oblique radiography, the X-ray field can be controlled according to the APR. Synchronization between the X-ray field and Bucky unit provides fast positioning even for complex orthopedic positioning.
Supports Highly Accurate Link Less Linear Tomography (Optional)
Linear tomography can be performed easily by simply setting the section height and other parameters at the X-ray tube unit.

To carry out our role in the early diagnosis of disease and the improvement of cure rates, Shimadzu provides a broad range of diagnostic imaging equipment.
At this time, a number of innovations are occurring at the leading edges of medical treatment. In the field of diagnostic imaging, Shimadzu has developed the direct conversion flat panel detector (FPD) that provides heretofore unavailable high-quality images. We are also the first in the world to market the circulatory organ diagnostic system on which this detector is mounted. Additionally, we have developed a variety of other diagnostic systems that utilize this FPD. Shimadzu is now a leading pioneer of these new types of diagnostic imaging.
Furthermore, recent IT technology developments are introducing efficient diagnostic systems to a variety of medical treatment areas. Shimadzu is supporting the renovation of IT systems in hospitals and medical centers by providing digital processing systems that incorporate the newest IT technology wherever possible and can process many kinds of medical information, including examination images.