Fujifilm's FDR D-EVO™ II provides a durable and cost-effective upgrade path for your existing X-ray room or your analog mobile device. Available in either CSl or GOS, the FDR D-EVO II provides the speed, image quality and workflow benefits of DR (digital radiography) with no major retrofit modifications required. The detectors are outfitted with magnesium alloy casing for durability and easy handling.
The FDR D-EVO II 35x43cm detector is currently one of the lightest in the world at only 5.7 lbs.
The detectors combine Fujifilm's patented ISS technology and noise reduction circuitry to give dose reduction and ultra-sharp image quality. Protected by a proprietary antibacterial coating and with the highest rating for water resistance (IPX6), the FDR D-EVO II makes a tough and practical addition to any imaging department.
Select the Perfect Wireless FPD (flat panel detector) for Your Application
FPD models are available in different configurations to meet a wide variety of clinical needs and budgets:
CSl: C24 (24x30cm), C35 (35x43cm) or C43 (43x43cm)
GOS: G35 (35x43cm) or G43 (43x43cm)

FUJIFILM's proprietary technology "ISS method" FPD
The "ISS method" (Irradiation Side Sampling) provides high sharpness images even at low dose. The main characteristic of FUJIFILM's new proprietary technology "ISS method" is realized by placing the TFT sensor on the front side of the scintillation layer whereas other existing panels locate the TFT sensor on the back side.
By using this new method, scattering/reduction of X-ray signal is significantly improved (resulting in improved MTF). Also, optimization of the scintillation layer of the panel is achieved by FUJIFILM's own precision coating technology cultivated through many years of Imaging Plate (IP) manufacturing (resulting in improvement of DQE).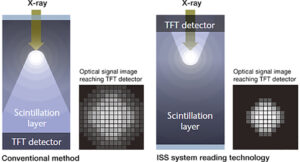 Fujifilm's noise reduction circuit improves detector sensitivity in high absorption regions
The uniquely developed noise reduction circuit reduces noise in the image. It achieves  up to 1.2 times the DQE of existing systems with the 0.03 mR dose. In particular, granularity of low-concentration regions such as the heart and mediastinum is dramatically improved.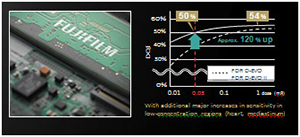 IPX6 waterproofing
Structured to prevent the infiltration of liquids, the device conforms to IPX6 and can withstand jets from any direction, providing peace of mind that biological fluids, such as blood, cannot enter the device.

Allows detector-only image storage
The detector itself can store up to 100 images in internal memory. This eliminates the work of carrying around multiple CR cassettes found in conventional systems.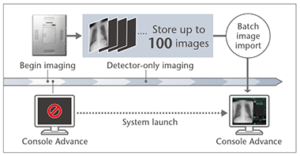 "SmartSwitch" Technology
Fujifilm developed a new technology "SmartSwitch" which allows automatic X-ray detection. With "SmartSwitch," FDR D-EVO II no longer requires connection between the X-ray generator and DR power supply unit to automatically detect X-rays and start image creation.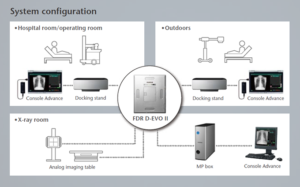 A frame structure that increases durability — 310 kg load capacity
The innovative SRM (Shell-shape with rib magnesium-alloy) frame realizes a lightweight design combined with a 310 kg load capacity on all surfaces by reinforcing the frame internally with ribs. This also improves the flex resistance of the display detector.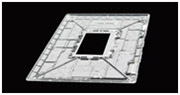 Hydro AG antibacterial coating
Unique moisture-activated germ-killing protective layer
Helps prevent transfer of germs
Ready for the rigors of the real-world imaging

FUJIFILM: Focused on Continuous Innovation
Fujifilm Medical Systems is devoted to providing healthcare experiences that enhance the quality of life. From the development of the first web-based PACS system to new detector technologies such as ISS and Direct Optical Switching, Fujifilm Medical Systems continues to provide technological solutions that embody these values.
Fujifilm is constantly pursuing better solutions, from microscopy to outer space. Fujifilm Advanced Research Laboratories works in fields ranging from organic synthesis, to pharmaceuticals, to image processing, bringing continuous innovation and leading-edge products to a broad spectrum of industries. Fujifilm is a Fortune 200 global corporation powered by a dedicated international workforce, an annual commitment of $2 billion to research and development (R&D), and a steadfast pledge to empower customers through innovation. Fujifilm is dedicated to researching and developing cutting-edge technologies that will shape the future.
One vendor, one solution
From DR and CR digital X-ray systems, to women's health imaging systems, to the Synapse family of products that includes PACS, RIS, Synapse 3D, and Synapse Cardiovascular, to archiving and cloud storage, Fujifilm provides a comprehensive portfolio of solutions that allows health systems to integrate and consolidate data management, standardizing platforms across all imaging. Fujifilm provides the answers to increasing pressure on the efficiency and productivity of technologists and radiologists.