The Arietta 70 has advanced functions that can be used in all clinical and various cases. The Ultra BE, an ultrasound-specific digital signal processor, is at the heart of the Arietta 70, offering advanced beamforming functionality and sophisticated image processing, as well as various high-resolution Doppler colour modes. Derived from high-end HI VISION trolley systems, this technology offers reliable diagnostic performance ensuring a smooth workflow. Its high transmit and receive capabilities enable real-time tissue elastography (RTE) and dynamic harmonic contrast imaging (dCHI) modalities to be implemented, providing improved diagnostic reliability.
Symphonic Technology
Whether its source is a world-class orchestra or advanced medical equipment, recording sound is an art form. It requires precision instrumentation to capture the most subtle details without introducing noise in the process. Arietta 70's Symphonic Technology optimizes data fidelity along the entire signal handling chain, from transducer to display monitor.

Download brochures:
Ergonomics
Arietta 70's ergonomics address every point of interaction between the ultrasound and sonographer. In addition to its moveable control panel, adjustable monitor, and portable frame, the Arietta supports a set of lightweight, ergonomically-contoured probes to reduce the stress exerted on the sonographer's arm and hand.
The Arietta 70 is 45% lighter than our previous premium class systems, making it easier to move from room to room or between floors.
User-friendly Operation Panel
Two-way multi-rotary encoders enable the adjustment of multiple functions using a single control, significantly reducing repetitive motions. The large palm rest at the centre of the operating console is designed to give optimum wrist support.
IPS-Pro Display Monitor
Developed initially by Hitachi Displays, Ltd., In-Plane Switching (IPS) was the first LCD technology to improve viewing-angle limitations. The Arietta 70's IPS-Pro display doubles the half-contrast viewing angle of these displays while also improving contrast, black levels, and switching speed.
Automated Measurements
The ARIETTA 70 automates complex, repetitive measurement routines to simplify time-intensive processes like auto carotid IMT, auto nuchal translucency, auto FHR, Estimated Fetal Weight measurements, optimal frame selection for Elastography interpretation, and placement of Strain Ratio regions of interest.
Adjustable Panel Height
The panel can reach a height of 175 cm and can be lowered to 70 cm in its lowest position, allowing the operator to perform lower extremity examinations with the control panel comfortably within reach.
Multi-layered Crystal
Using multiple layers of crystal within each element, Hitachi's probes minimize signal attenuation during transmit and receive to increase penetration.
Single Crystal Probes
A single crystal is used to provide the piezoelectric elements of the probe. Single crystal technology achieves higher sensitivity and wider bandwidths over standard piezoceramics.
Compound Pulse Wave Generator
CPWG+ is a unique transmission technology that allows the Arietta 70 to generate pulses closer than ever before to the ideal theoretical waveform. As a result, the heat generation during electro-acoustical conversion is minimized. This allows the use of stronger pulses to improve penetration, contrast and spatial resolution, and signal-to-noise ratio.
Pixel Focusing
Arietta 70 dynamically focuses at the pixel level improving resolution and image uniformity.
Front-end Technology
Integrating components of the probe connector suppresses noise and enhances 5/N (signal to noise ratio). The Compound Pulse Wave Generator (CPWG+) produces efficient transmission waveform to obtain high sensitivity and resolution.
Ultra Backend
The high-speed digital computing of the Ultra Backend enables powerful real-time image processing, producing images with outstanding clarity.
Real-time Tissue Elastography (RTE)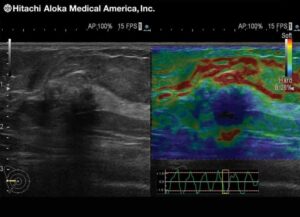 Real-time Elastography creates colour images depicting relative tissue stiffness. Arietta 70 supports this function on a variety of curved, linear, and endocavity probes.
Real-time Virtual Sonography (RVS)
RVS merges real-time ultrasound with previously acquired CT, MR, PET, or ultrasound images. It allows a direct comparison of lesions, taking advantage of the strengths of each imaging modality.
Directional eFLOW (D-eFLOW)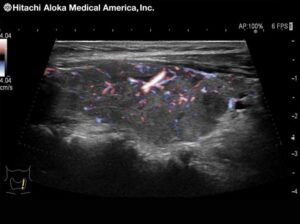 D-eFLOW is a high-definition blood-flow imaging mode that combines the directional information and image stability of traditional colour flow imaging with the high sensitivity and resolution of power Doppler. The resulting images provide exceptional detail of even the smallest vessels.
Dual Gate Doppler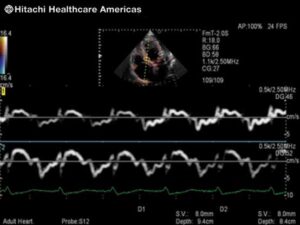 Enables observation of Doppler waveforms from two separate locations during the same heart cycle. Measurements such as the E/e' ratio can be measured, eliminating beat-to-beat variation.
Contrast Harmonic Imaging (CHI)
To improve understanding of blood flow information, Hitachi offers harmonics enhanced imaging specifically designed for use with contrast agents. The low MI contrast imaging obtained improves signal-to-noise ratio.

Hitachi Healthcare Americas delivers best in class medical imaging technologies for healthcare providers. Hitachi's MRI, CT and Ultrasound along with Agfa HealthCare's Digital Radiology provide speed, comfort and quality for both physicians and patients and play an important role in the diagnosis and treatment of disease while driving social innovation into healthcare. Hitachi's VidiStar image and reporting platform enables healthcare professionals to create value-based reports leveraging a cloud-based image management and analytics platform for improved communication across the healthcare organization. Physicians can grow their business into pediatrics, orthopedics and other unique patient populations while exploring new areas to compete.
With an optimized and patient centric approach, healthcare providers can deliver strong value into their communities and Hitachi will be there to support them. Our customer first philosophy compels us to make customer support one of the most important things we do. Innovating Healthcare, Embracing the Future.