Shimadzu's Trinias Unity edition offers an abundance of standard features, along with advanced technology to address the challenges you face every day. Image processing engine SCORE PRO Advance, motion tolerant DSA technology SCORE RSM, stent enhancement software SCORE StentView and advanced 3D applications ensure advance support for all interventions.
Simplifying everyday procedures with optimal workflow
Trinias unity edition is designed to provide full-body coverage with a choice of flat panel sizes and unlimited table positioning:
12 x 12 inches (30×30 cm) FPDs
16 x 12 inches (40×30 cm) FPDs

The flexible C-arm configuration, as well as the overall design is optimized for one-touch actions. In combination with comprehensive dose management technology, Trinias Unity facilitates safe, accurate and fast imaging.
Trinias Unity systems feature proprietary ultra-high-speed image processing technology and multiple specialized functions such as:
Smart Access: for the most comprehensive access around the patient during all exams. The floor-mounted C-arm has a six-axis triple-pivot construction, which achieves similar access to that of the ceiling-mounted type. The ceiling-mounted C-arm is capable of full-body coverage without moving the patient— 210 cm transverse and 190 cm longitudinal coverage. Transverse movement, in combination with 270 degrees access around the patient head, supports a safe approach in all clinical circumstances.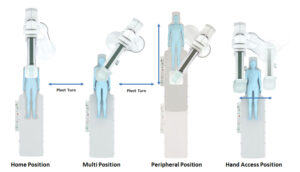 SMART Touch: operations such as selecting acquisition modes, switching reference images and display layouts are integrated into the intuitive and customizable touch panel console at the bedside, which maximizes the efficiency of workflow.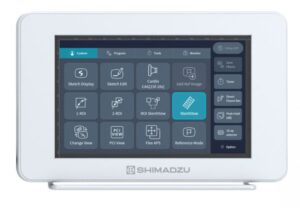 SCORE Pro Advance: the real-time image technology that produces high image quality, while allowing lower dose settings, dramatically improves intervention device visibility during fluoroscopy displayed automatically after radiography.
SCORE RSM: a unique image processing algorithm to minimize motion artifacts during DSA imaging. This application is especially effective for tracking the entire lower or upper extremities during peripheral procedures, as well as examinations on patients who have difficulty holding their breath.
SCORE Chase: real time whole peripheral observation enabled by the automatic stitching and display of images acquired with Score-RSM.
Flex-APS: real-time artifact optimization function that improves misregistrations of DSA, regardless of ROIs movement direction, such as twisting.
SCORE StentView: for real-time assessment of stent deployment without influence of the heart beat. This is particularly effective for assessing positional relationships between overlapping stents, or when re-expanding a stent using a balloon.
SCORE 3D: allows rapid display of the 3D reconstructed images automatically after rotational angiography. With a top rotational image acquisition speed of 60 degrees per second, the shorter contrast medium injection time reduces the burden on patients and ensures high image quality.
SCORE CT (12" and 16" FPD only): is an application for observing cross-sectional images of low contrast regions. The application has two modes for use depending on the procedure and radiographic region of interest. Axial, coronal, and sagittal images are displayed automatically after radiography.
Shimadzu's Trinias Unity combines advanced technologies and intelligent design to solve everyday healthcare imaging problems.
Customized for your efficient workflow: multiple detector sizes and the multi-functional table are adaptable to various room configurations and diverse procedures.
Full range of access around the patient from head to toe in both ceiling and floor versions. Transverse movement is standardly equipped on all Trinias Unity systems to provide arm access, especially for transradial approach.
Optimized workflow features and technology innovations to simplify everyday procedures – from easy positioning to one-touch application settings and procedure guidance tools you want.
High image quality preserved at a reduced dose – dose management tools are standard on the system.
Support you can trust with 24/7 technical assistance through our call centre and on-site service's highly experienced field team.

Shimadzu provides a broad range of diagnostic imaging equipment.
At this time, a number of innovations are occurring at the leading edges of medical treatment. In the field of diagnostic imaging, Shimadzu has developed the direct conversion flat panel detector (FPD) that provides heretofore unavailable high-quality images. We are also the first in the world to market the circulatory organ diagnostic system on which this detector is mounted. Additionally, we have developed a variety of other diagnostic systems that utilize this FPD. Shimadzu is now a leading pioneer of these new types of diagnostic imaging.
Furthermore, recent IT technology developments are introducing efficient diagnostic systems to a variety of medical treatment areas. Shimadzu is supporting the renovation of IT systems in hospitals and medical centers by providing digital processing systems that incorporate the newest IT technology wherever possible and can process many kinds of medical information, including examination images.