More than a Mobile, an Experience
The award-winning MobileDaRt Evolution is further refined into the MX8 version featuring the collapsible column to broaden the mobile's solutions.
Capitalizing on the merits of efficiency and high throughput, the MobileDaRt Evolution MX8 equipped with the latest Fujifilm wireless flat panel detectors (FPDs), ensures the best possible image quality at the lowest possible X-ray dose.
With the MobileDaRt Evolution MX8 experience:
Responsive, completely motorized and smooth manoeuvrability
A large viewing monitor and several positioning controls for enhanced functionality
Two second image verification offering immediacy
Select the Perfect Wireless FPD 
FPD models are available to meet a wide variety of clinical needs such as  :
Physical size
Sensitivity
Data transmission
This FPD can be integrated to multiple compatible mobile units and X-ray rooms, and you may add additional panels of different sizes to meet your changing requirements.
With an ultra-thin, lightweight design and IPX6 liquid resistance, Fujifilm detectors are the most dose-responsive and durable systems available. They are also combined with a 310 kg load capacity.
High Sensitivity Compact FPD for Pediatric Care
The compact FPD fits inside the cassette tray of an incubator, which enables imaging neonatal babies or infants. A high sensitivity FPD helps reduce radiation exposure, providing powerful support for pediatric care.
Large Field-of-View to Cover an Entire Region
Time  is critical in emergency conditions. The large field FPD secures wide field of view and reduces the number of exposures to cover the entire region of interest.
Greatest Image Quality
The optional Virtual Grid software provides higher image quality and reduced dose requirements, even for very large patients.
The latest Dynamic Visualization II image processing algorithm ensures that all images appear contrasting and detailed – every time.
Great forward visibility
The collapsible column has been developed to realize a virtually unobstructed wide field of view during travel, making it ideal for daily hospital rounds.
Column Driving Height- 1270 mm / 50 inches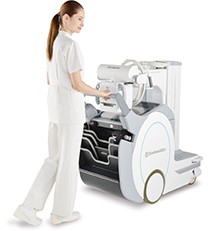 Superb drivability
Optimized power assist system delivers smooth light touch driving. The low-profile and curved shape provides for an open space behind the mobile cart, allowing for a more natural driving position.
Positioning, exposure from any direction
Multiple "All-Free" buttons are conveniently located around the system, providing easy positioning and alignment of the X-ray tube during procedures. In addition, MobileDaRt Evolution can be moved forward and backwards using the bedside "inch mover" control buttons on the front of the collimator. This allows for easy and accurate position in any situation, including small rooms.

High Reliability
Instead of a traditional hard disk, a high-speed vibration resistant solid state drive (SSD) has been adopted, thereby reducing the system startup time, allowing rapid imaging to be performed in an emergency. The high performance wireless FPD's together with the high-performance computer provide an image within 2 seconds of exposure, making this the system of choice for the ER and NICU.
User-friendly design
For your daily use, extra storage spaces are provided to store wipes, pens, markers, etc. Grooves are provided for holding the FPD vertically while putting a sterile cover on the plate. The redesigned FPD storage compartment is equipped with an anti-theft lock function for securing detectors while technologists are away from the system.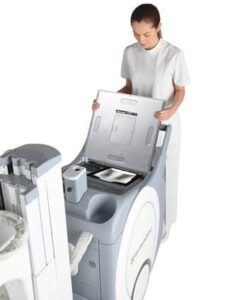 Shimadzu provides a broad range of diagnostic imaging equipment.
At this time, a number of innovations are occurring at the leading edges of medical treatment. In the field of diagnostic imaging, Shimadzu has developed the direct conversion flat panel detector (FPD) that provides heretofore unavailable high-quality images. We are also the first in the world to market the circulatory organ diagnostic system on which this detector is mounted. Additionally, we have developed a variety of other diagnostic systems that utilize this FPD. Shimadzu is now a leading pioneer of these new types of diagnostic imaging.
Furthermore, recent IT technology developments are introducing efficient diagnostic systems to a variety of medical treatment areas. Shimadzu is supporting the renovation of IT systems in hospitals and medical centers by providing digital processing systems that incorporate the newest IT technology wherever possible and can process many kinds of medical information, including examination images.